It's hard to believe that just two weeks ago we kicked off our fifth cohort of Vision 2024 participants.
For the next six months, Code2College female students of color will regularly meet with successful women in STEM roles, receiving individualized guidance in wide ranging professional and personal areas. And by the looks of these excited faces, we have no doubt this will be yet another impactful experience for both student and mentor!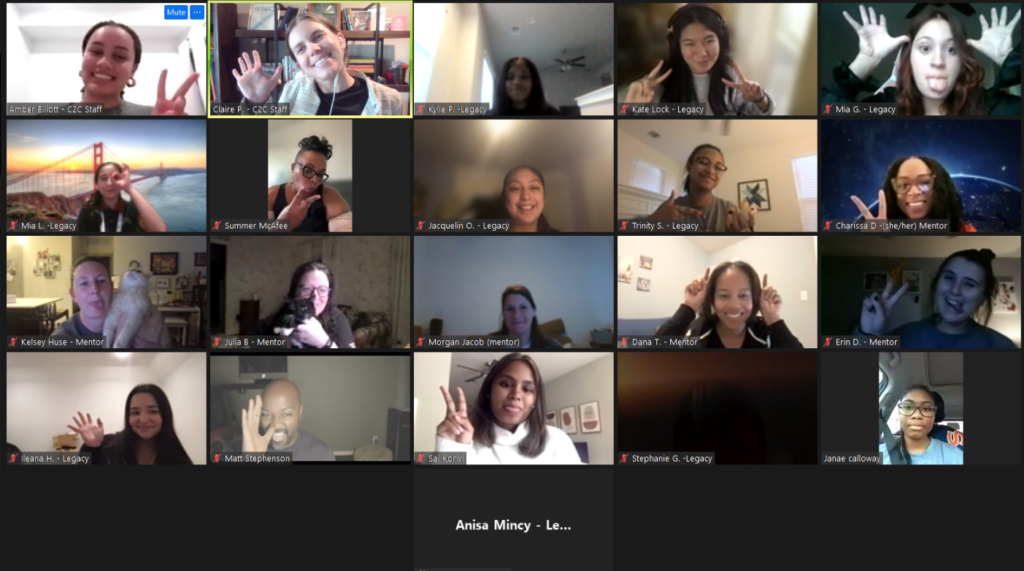 But we still get questions from students about this life-changing initiative. What is Vision 2024? What does it mean to be a Legacy? Is it worth it?
We got your back, and – as you'll soon see – so will your mentors!
What is Vision 2024?
Having formally launched in June 2020, Code2College Vision 2024 is focused on the identification, recruitment, preparation, and workforce placement of women who have the talent and potential for STEM careers, but historically and currently lack the access to pursue these high-need and high-wage careers. The overall vision? To place 200 Black and Latina women into STEM roles by 2024. 
The "how" for this goal lies in strategic mentorship. Our participating Black and Latina girls – whom we call Legacies – are paired with technical and executive mentors, who establish strong professional relationships with Legacies by providing critical support centered around career growth and development. Technical mentors offer from-the-field insight into professions our Legacies may be pursuing, like Data Science, Cybersecurity and Software Engineering. Executive mentors hold senior level positions and can offer guidance in big picture topics like leadership, innovation and more.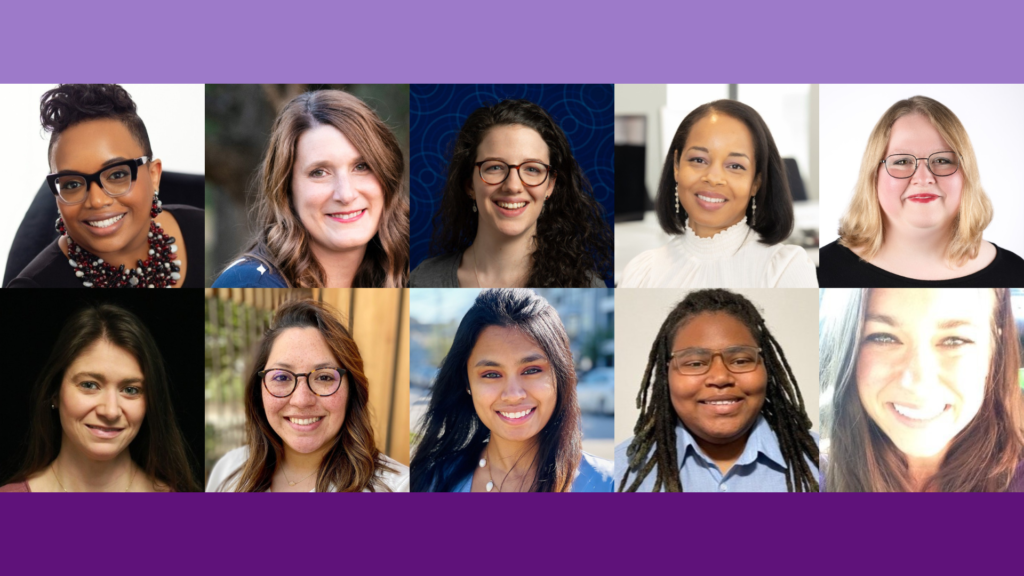 Although the assigned meeting cadence is monthly, our Legacies get so much out of their one-on-one mentorship that many meet their mentors biweekly – even weekly! Cohort-wide meetings are also regularly held to allow Legacies and mentors to foster connections with others in the group. It's this exposure to so many women in tech that keeps one Legacy coming back! "It's very comforting to be surrounded by women of color who can help guide me through corporate America," says Kylie, a high school senior who has joined her second cohort. "That and getting to talk about anything on my mind is why I love it so much."
For returning Vision 2024 executive mentor Julia Brown, Senior Software Engineer at Brex, facilitating and witnessing an individual's growth is what keeps her coming back. "There are very few things as satisfying as watching someone grow and improve. I'm already impressed with how much the students learn over the course of a few weeks of class – the transformation over a year will be even more impressive."
Impressive indeed – but don't take our word for it. Marlene and Kristy's Vision 2024 experiences speak for themselves.
Vision 2024 in Action
At the height of the pandemic, Marlene was struggling at Georgetown University. Some of her courses were particularly challenging, and being quarantined at home meant she was even more removed from a place she already felt isolated from. "I wasn't confident in my programming skills, I was anxious about everything, and seeing people of color dropping out of my classes was awful. But having a woman in tech [to turn to] that knew what all that was like – that really helped me."
Marlene's technical mentor became a comforting source of emotional support when she felt alone, while her executive mentor helped her gain her confidence back through professional development and even coursework tutoring! "Vision 2024 definitely gave me the confidence boost and professional tools to be able to pull myself out of that rut." Long out of that rut, Marlene has since left her mark on campus. From starting and running a campus organization that provides support and community for Computer Science students of color to tutoring fellow students struggling with their coding courses, Marlene is already paying it forward!
And it gets better.
Marlene was able to land a Microsoft internship during college, and did so well she was offered a full time position upon her graduation. This time next year she'll be working full time as a Software Developer for Microsoft! (and no, we could not be prouder!)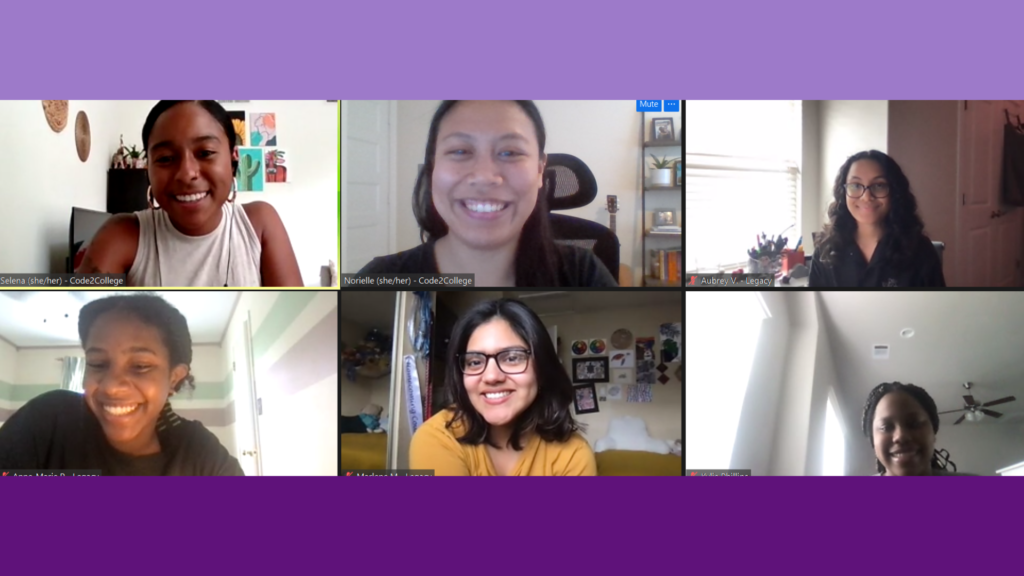 Similar to Marlene, Kristy found herself struggling at Texas A&M University. At the time, she believed that having top grades was an important indicator of her ability to thrive in a STEM career. So when she got grades she wasn't happy with, she was struck with anxiety about her future. But her executive mentor Lauren Luensmann, Vice President of Systems at H-E-B, was quick to remind her that grades were not predictors of success. While helping Kristy develop this new outlook, Lauren encouraged her to apply for a technical internship opening at H-E-B. "I just knew her career would be through the roof if we got her over here," recalls Lauren. She knows potential when she sees it!
And so did her manager. Kristy ended up not only securing that internship, but did so well that her H-E-B manger offered her a full time position in their Cybersecurity department upon her college graduation. "Lauren was the domino that led to a cascade of other dominos. If it wasn't for her, I'd still be really hard on myself – and I definitely would not have this job!" Kristy exclaimed.
With an impact like that, it's not hard to understand why Lauren was voted Vision 2024 Mentor of the Year at our third annual IDEA Awards!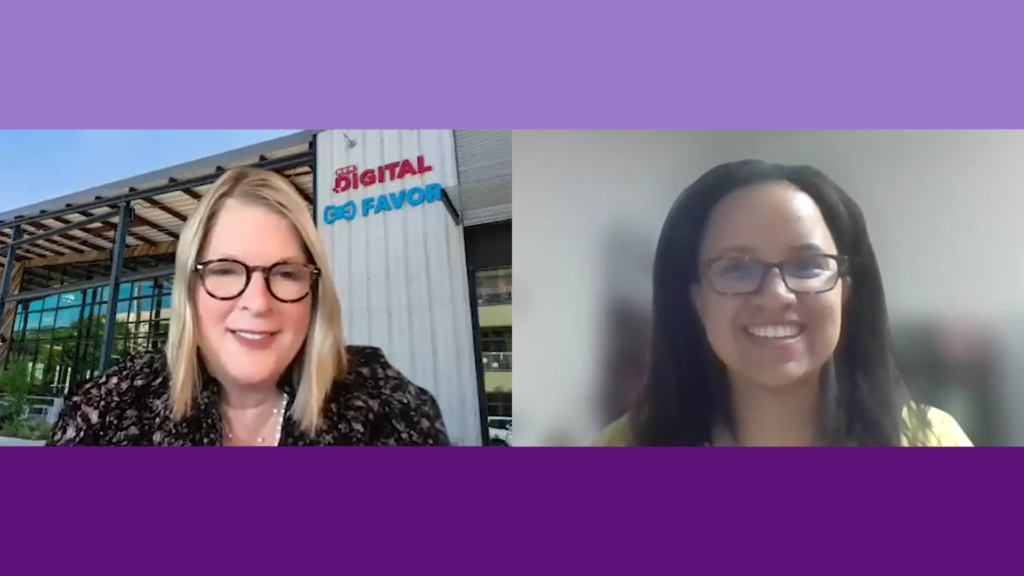 WHY BECOME A LEGACY?
From informed goal setting and collaborative problem solving to navigating work-life balance and receiving emotional support, the Vision 2024 program is truly what our Legacies make it. It's not a scripted lecture, nor is it one size fits all. It's an ongoing conversation with another human being that a Legacy can see themselves in, thus feeling comfortable enough to cultivate a meaningful professional relationship that really does change lives.
Again, you don't have to take our word for it – you don't get a 100% program retention rate for nothing!
Learn how you can become a Legacy or mentor by emailing Amber at amber.elliott@code2college.org
For more information on the Vision 2024 impact, you can find our impact reports here.