As our largest event to date with over 250 guests and the first in-person event of its kind, the third annual Code2College IDEA Awards was nothing short of spectacular. We knew we were long overdue on a proper celebration of the tireless partners and volunteers that make our work possible. But as the busyness of RSVP organizing, table setup and all things gala planning subsided, we suddenly felt the deeper meaning of having our partners, volunteers and students all in one room. Despite the profound impact on each others' lives, years of virtual programming meant some managers, instructors and students had never met each other in person – until this night.
It was an evening not just of celebration and honor, but of reconnection and the realization that our efforts really can change an individual's life.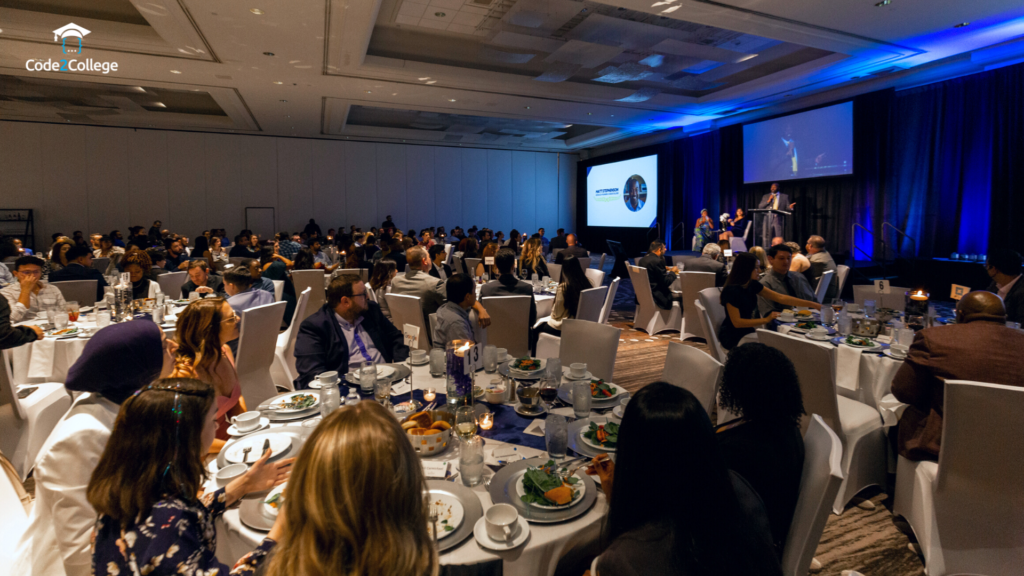 IN CASE YOU'RE NEW HERE…
The Code2College IDEA Awards celebrate the impact of Code2College volunteers and corporate partners on our students, who handpick the individuals and companies they believe showcased an outstanding commitment to furthering diversity in STEM over the last year. Just as our incredible volunteers and partners are the lifeblood of Code2College, so too were the sponsors of this student-driven event. The biggest of thank you's go to Atlassian, our title sponsor, and to all of our Byte Sponsors!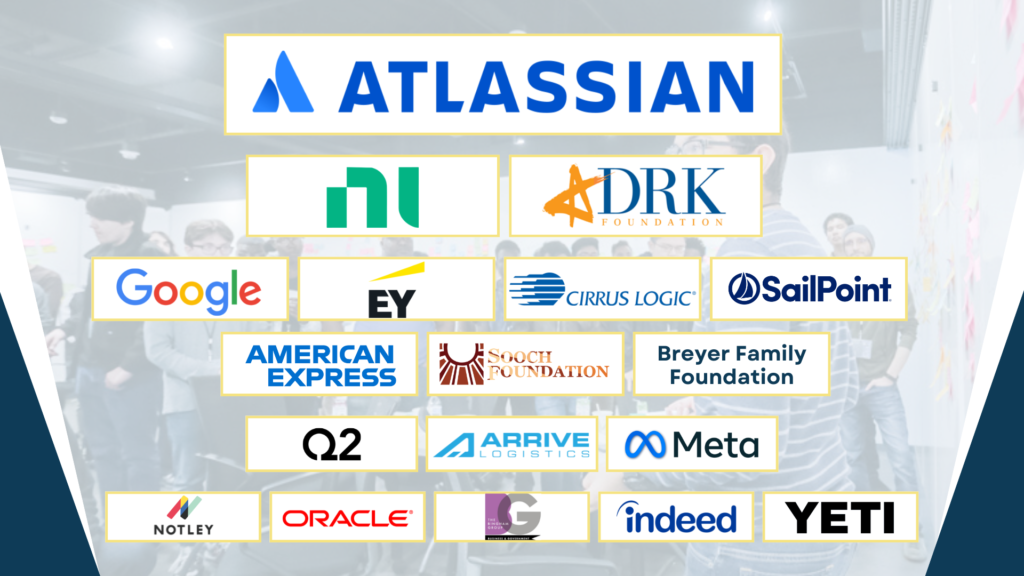 OUR HONORED GUESTS
Of course, it's never the fancy meals and snazzy getup that make a gala – it's the people.
Hosting our award ceremony was a powerhouse duo if we ever saw one: Terry P. Mitchell, the acclaimed DEI expert, community leader, entrepreneur and founder of Austin's Black Leaders Collective; and Marlene Mora, Code2College alumna (2016), soon to be Georgetown University graduate and upcoming Software Engineer at Microsoft! Having flown from Washington, D.C. just for this event, Marlene was grateful for the opportunity to both celebrate the impact of Code2College supporters, but to also spend valuable time with her loved ones – her mom being her Plus One! "It's hard being so far away from them. I hadn't seen my family and friends in almost seven months, so this was really special."
As if that weren't enough to make us feel all warm and fuzzy, there were all manner of engineers, executives and alumni mixing and mingling together, many of whom were meeting each other in person for the first time. This year's Instructor of the Year Kelsey Huse, Software Engineer at Realtor.com, recalls feeling pleasantly surprised to meet one of her students, Miguel Amaya, who just so happened to present her with her award! "[It was] incredible to hear that after attending my class he went on to intern at VMware (where he already knew how to use git & github because of our class!) and then H-E-B Digital. He's now studying Cybersecurity at UT San Antonio!" It was just as incredible to see Kelsey enjoy that hard-won proud teacher moment!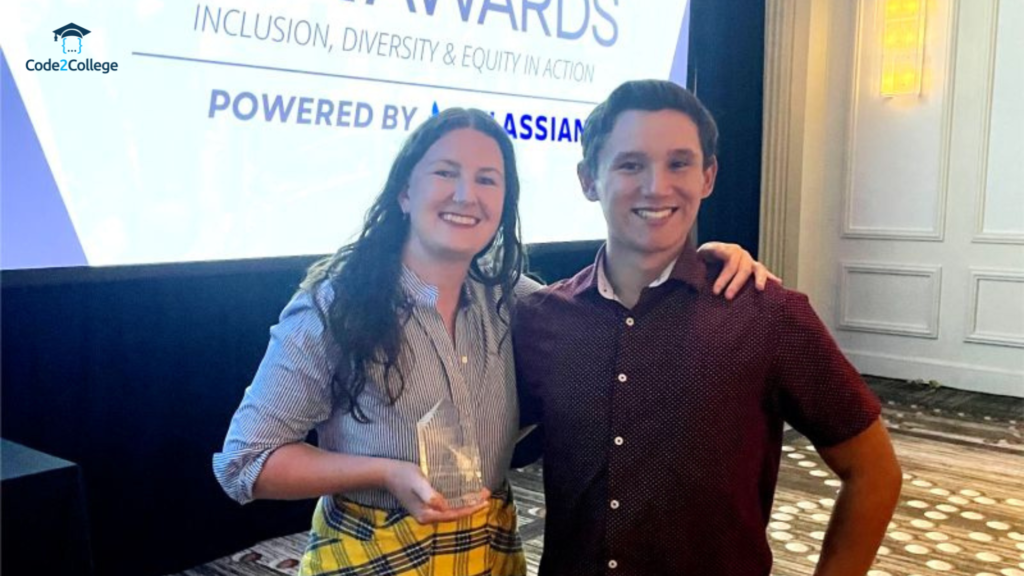 WINNERS AND HONOREES
But we're getting ahead of ourselves!
After opening remarks from Code2College CEO Matt Stephenson and Sailpoint CEO Mark McClain, the award ceremony kicked off with our Leadership Community Champion Awards. These awards went to individuals who went above and beyond to provide mentorship, increase access to STEM fields for our girls and students of color, and invite broader corporate engagement with Code2College. We were thrilled to honor the inspiring work of Janelle Austin, Culture and Engagement Manager at Cirrus Logic; Jasmine Vallejo, Community Engagement and Public Policy at Meta; and Keatra Nesbitt, Data Scientist at Valkyrie Intelligence.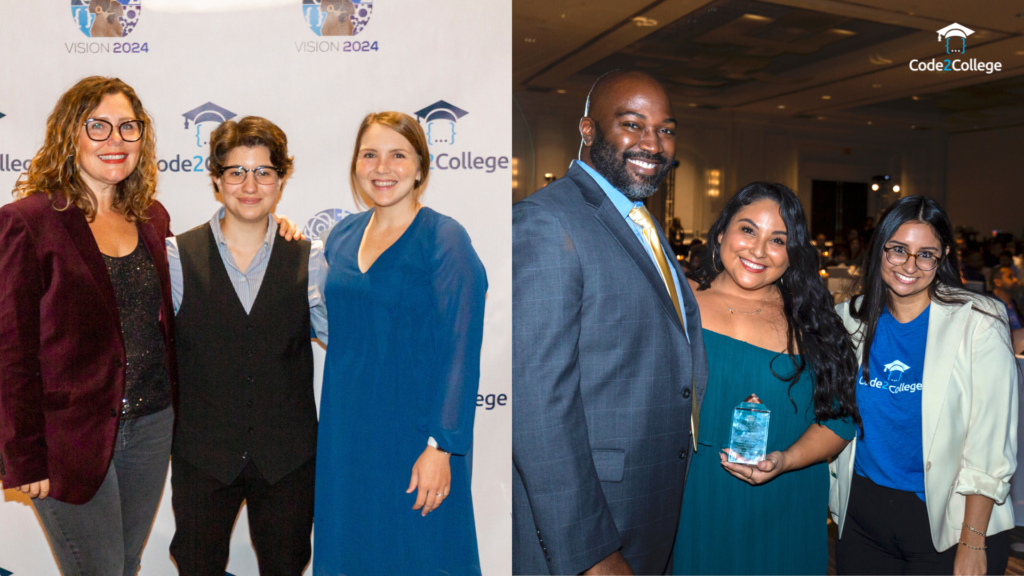 Just as heartwarming was seeing each award presented by Code2College alumni, who shared their own impact statements to raucous applause (much to their surprise, which their shy smiles and blushing faces betrayed!). After sharing their own journeys, they elevated other student voices by sharing impact statements from the award nomination forms, which were heard by the winners for the first time. "It was so sweet hearing what they said about me – apparently I was able to successfully teach high school kids how to fix merge conflicts in git!" Kelsey Huse joked. "To be a part of the lives of these young learners [and] seeing them proceed on their journeys makes all the hours of volunteering more than worthwhile."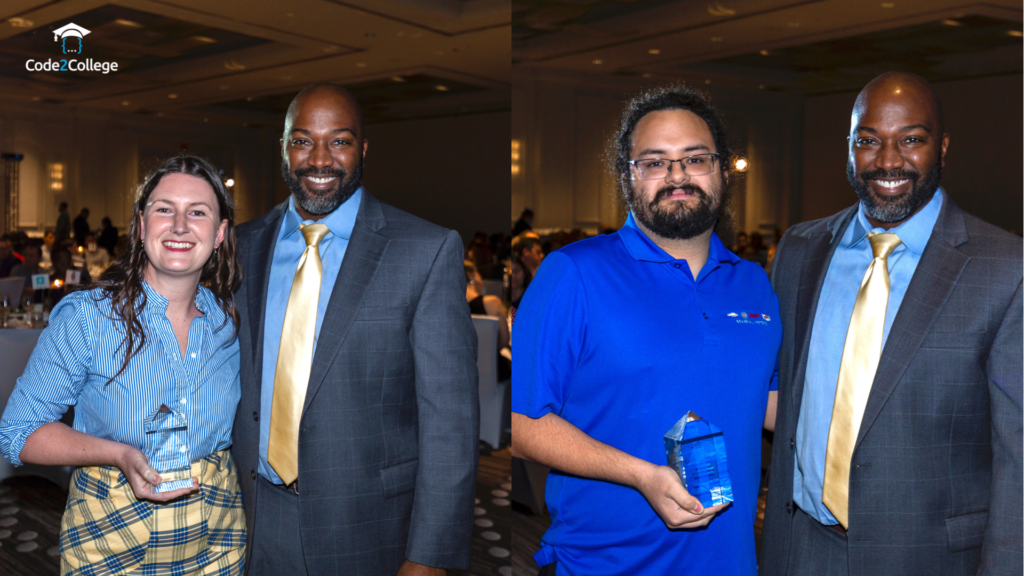 Last but certainly not least were the awards for our corporate partners, honored by volunteer hours, workshop and employment experiences. Having set the new record for volunteer hours logged in a single year, Google was honored as our Diversity in STEM Champion, accepted by Director of Corporate Engineering Nuha Elkhiamy. Equally exciting was having Q2, one of our founding corporate partners, awarded Workshop of the Year. Code2College alumnus Wilson G. shared one student's impact statement: "Their workshops made me more confident in what I was capable of, in turn making me succeed even further in what I want to pursue in Computer Science." When you have an impact like that, it's no wonder you take home Workshop of the Year, Q2!
And in what felt like the cherry on top, it was amazing to see our title sponsor Atlassian take home the coveted Employer of the Year Award! Code2College alumna and one time Atlassian intern Carolina B. introduced the award, sharing one student's moving impact statement: "Looking at all of the things this company does to ensure our work-life balance, such as allowing for flexible schedules, sending random gift cards, and providing a company culture, along with giving engineering interns tasks that they know will help teams around the world, and supporting them throughout the way, I have to say that I felt like I was at home." So yeah – you better believe there were some "Aww's" in the crowd when Carolina called out Atlassian! Accepting on behalf of Atlassian was Steve Ronderos, longtime Code2College volunteer who once taught Carolina as a Code2College student – until she became his colleague during her Atlassian internship!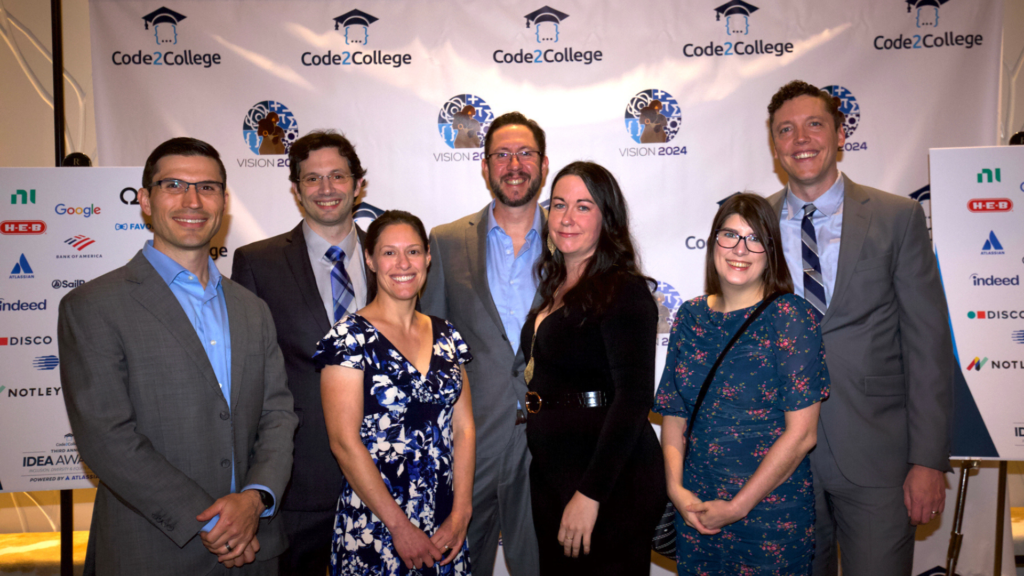 A NIGHT TO REMEMBER
To call out every beautiful moment that happened that night would most likely result in a novel – and we know there are few of y'all who are crazy enough to read it! From instructors meeting longtime students and managers reconnecting with past interns to even running into old high school teachers who now work at Code2College (looking at you, Marlene and Briana!), we were floored by the boundless happiness and excitement exuded by every single attendee.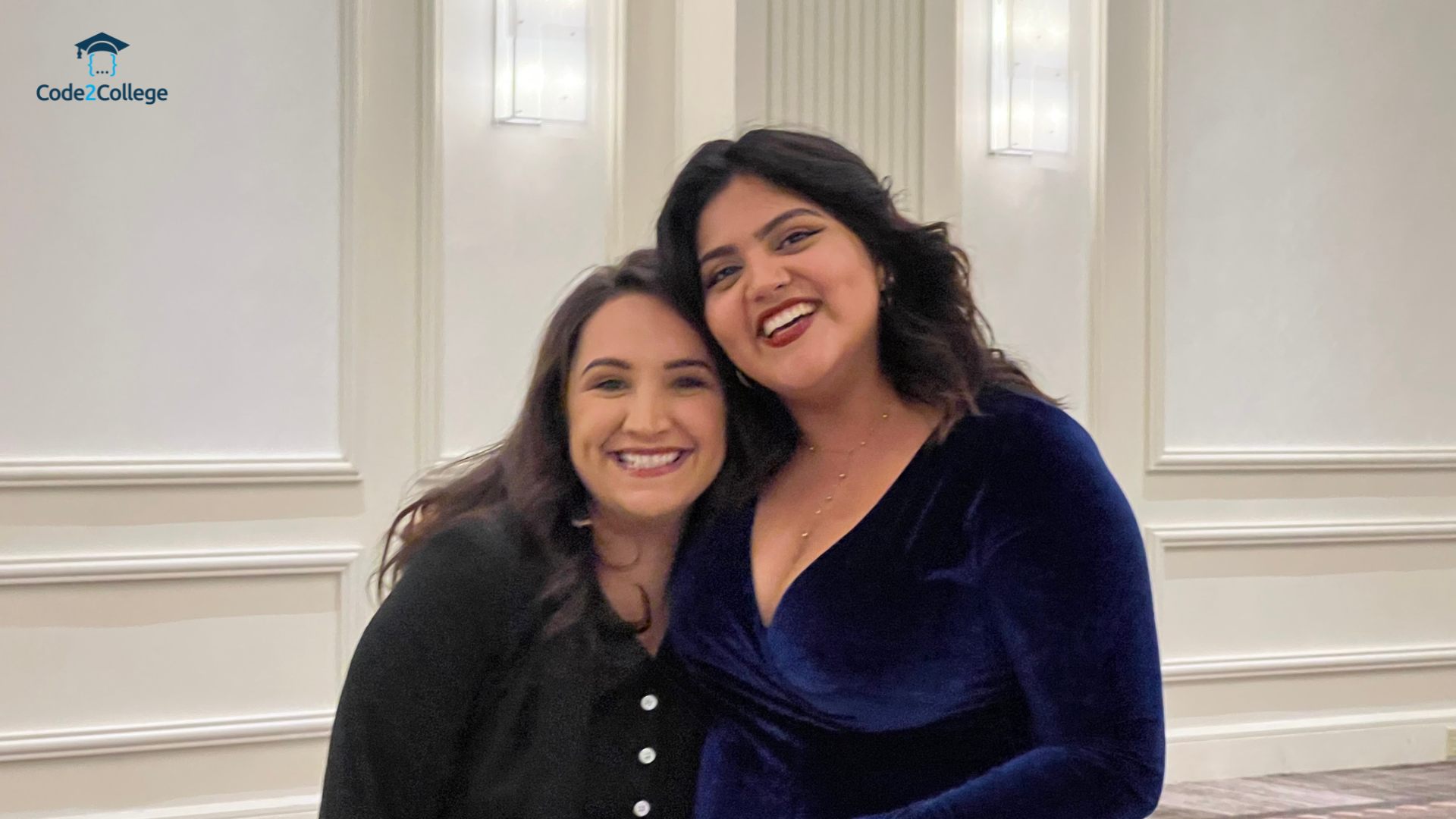 The third annual Code2College IDEA Awards were a testament to our growth, the joint impact we have together with our partners and volunteers, and the hope we all share for a brighter and more equitable future. It was a celebration of how far we've come and a rejuvenated commitment to the path ahead – as evidenced by the overflow of volunteer signups and generous donations totaling nearly $20,000!
We are simply beside ourselves with gratitude, inspiration and joy. We cannot wait to see what the following year brings!