With the IDEA Awards over, the holiday season upon us and the year coming to close, it's only natural that we're in a reflective and grateful mood.
This year saw many meaningful gestures exhibited by partners, volunteers and members of the community – including new records set for individual and corporate volunteer hours!
Although volunteer instruction and mentorship are the traditional ways to get involved here at Code2College, they aren't the end all be all. Passionate individuals strapped for time have found equally meaningful avenues to directly support our high school students and college-going alumni.
So if you're in the holiday spirit looking for heartwarming ways to give back to your community – look no further! We've put together 5 Thoughtful Ways to Support Code2College Students inspired by the Code2College volunteer community this last year.
#1 Write a Letter of Encouragement
This gesture always puts us in the feels.
Volunteers from Expedia Group and EY got together to write letters of encouragement to our college-going alumni. Some were first generation college students settling into their first year, while others were preparing for finals. Can you imagine receiving a handwritten letter from a STEM professional, possibly someone in your desired field, telling you they believe in you at a time when you might not believe in yourself?
You don't have to – because Code2College alumna Kristy told us what it feels like. "I lost it," Kristy laughs, recalling how emotional she got after reading the handwritten letter she received unexpectedly during midterms. "Chemistry was so much harder than I thought it would be, so you can imagine how those exams were going. [That letter] was the best thing. It couldn't have come at a better time, honestly."
From preparing for internship interviews to graduating college, our students and alumni always have things going on that may spike their nerves. Consider getting a few colleagues together and drafting up some words of encouragement!
To learn more, contact our Associate Director of Growth Christine Herlin at christine@code2college.org.
#2 Donate Your Tech
We're committed to ensuring that the only thing standing between a student and our program is the application. This means we will provide laptops and webcams to any student who cannot afford them.
With Christmas coming up, many people will invest into snazzy new tech gear. Consider gifting your old tech to a student in need! It means a world of difference. Just ask any one of our operations crew – teary-eyed parents have told them time and time again how much it means to their family.
"Tech drop offs are always really sweet," says Sydney Watson, our Events and Operations Manager. "There are times when you can just see the gratitude in parents' eyes, knowing that this laptop donation just helped their child. And it's something that helps them beyond our program and into college."
To gift a laptop or learn more about the needed specs, visit our tech donation form here.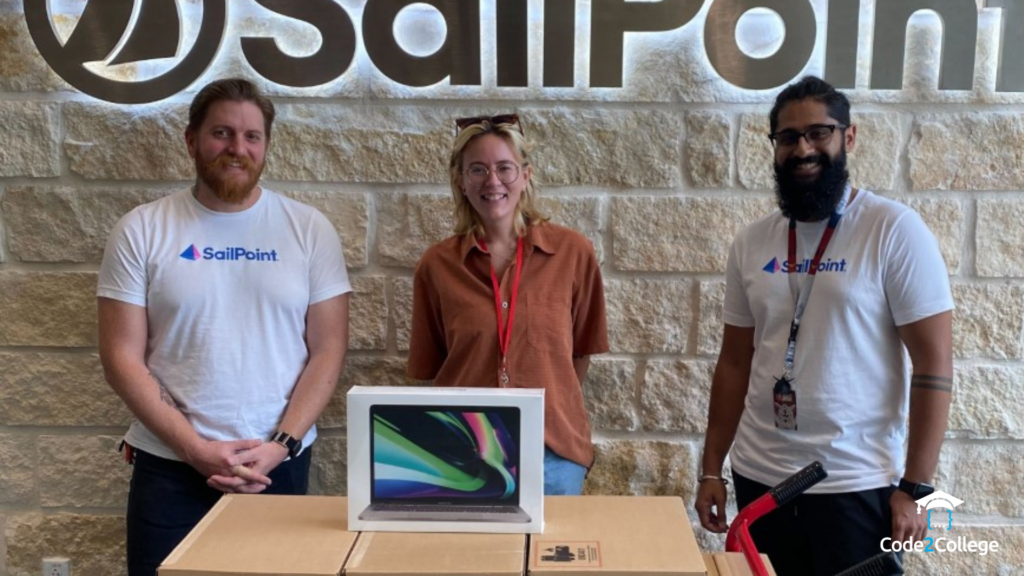 #3 Be a Guest Blogger
There are growing numbers of occupations that open up to someone who knows how to code. In order for a student to know whether being a "Data Analyst" or "Back End Developer" is right for them, they need to get a sense of what that job is like. One way to support this is by sharing your technical experience in a guest blog for Code2College.
Maybe you wield your experiences in STEM to provide targeted advice, like Senior Machine Learning Engineer at Coinbase Samuel Taylor did for technical interviews. Perhaps you write about what inspired you to pursue a STEM career like Full Stack Engineer at Spotify Gaby Gil, or share your experiences as a person of color in STEM like Principal Software Development Lead at Microsoft Jorge Luna.
Whatever you want to write about, sometimes the best way to inspire a student is to tell your story.
To learn more, contact our Manager of Storytelling Lexy Brunnert at lexy@code2college.org.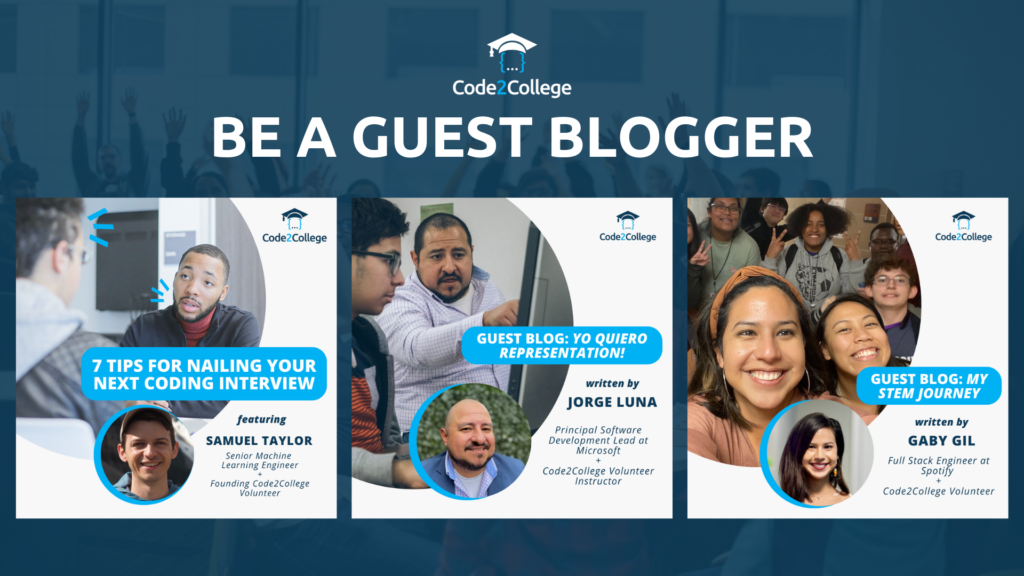 #4 Guest Star on our Technically 200 Podcast
On a similar note, maybe you're not a fan of writing – but you do like a good conversation!
Technically 200 is our podcast featuring the stories of Black and Latina women breaking barriers in STEM fields and paving the way for the next generation of Black and Latina STEM leaders.
Geared towards Black and Latina girls aspiring to fields in STEM, listeners can learn more about different STEM fields, how our guests navigated these fields as women of color and their contributions to the broader STEM community.
As a guest speaker, you can share insider knowledge on your field, your experiences as a person of color in STEM, and so much more.
To learn more, contact our Associate of ALPHA Amber Elliott at amber@code2college.org.
#5 Participate in #GivingTuesday
November 29th is #GivingTuesday – the annual global day of generosity. In just 24 hours, millions of people around the world pledge their support to the causes and organizations making a difference in their communities.
Participants may not only give money, but may also give their time by pledging to volunteer, spreading awareness through social media, and engaging in other meaningful gestures of support – just like the ones we listed above!
For this year's Giving Tuesday, we're spotlighting #TheNext3000 initiative to place 3,000 historically underestimated high school students into paid, technical internships by 2026. We're raising $50,000 to support our initiative that will catalyze tremendous economic, social and professional opportunities for our students' communities and the broader STEM ecosystem.
On November 29th, consider sharing our work on social media, or gifting a donation to give students like Calel the exposure to and experience in diverse STEM careers.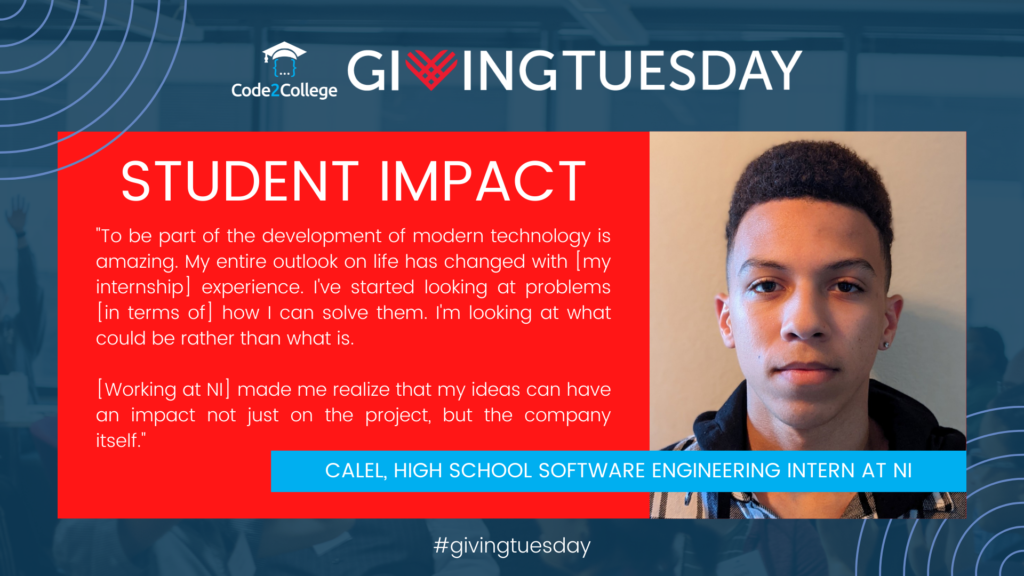 YOU MAKE A DIFFERENCE
If you contemplated any one of the above ways to support Code2College students, you may have thought, "Will that actually make a difference?" A fair question, considering that if you did everything listed here you would never get to interact with a student.
Someone who writes a letter, donates a laptop or writes a blog will never see the teary-eyed mother, the email gushing with gratitude, or the laptop screen toggling between the how-to blog and the Word document of notes.
So that's why we, who see and hear the impact of your actions, are here to tell you – they do make a difference.
They really do.
To make your #GivingTuesday gift early, visit our fundraising page.
For more ideas on how to meaningful participate this #GivingTuesday, visit the Giving Tuesday homepage.