We are thrilled to announce that Polaris has invested $200,000 at Code2College to support one of our most popular courses, Embedded Systems. Having innovative partners like Polaris sponsor Code2College courses is key to keeping our course curriculum industry-relevant and -informed.
In Embedded Systems, students learn to connect software and hardware by building skills with devices like raspberry pis, C++, GUIs and more. Now sponsored by Polaris, the Embedded Systems course project allows students to program critical functions like headlights for vehicle dashboard prototypes. When companies sponsor and author our courses, they not only bring industry expertise to students, but the students are exposed to new fields and company-specific approaches to those fields.
"So many of the STEM fields feel untouchable unless you grow up with some sense of exposure early – which is why I love what Code2College is doing."

Chris Sergeant, Director, Vice President, General Manager, Polaris
We are grateful for Polaris' support of meaningful STEM education, and for their impactful engagement with students in different areas of our program. Since they began volunteering in 2020, Polaris folks have hosted and volunteered at various workforce development workshops and kicked off their Visionary Partnership last summer by hiring four Code2College high school interns. At the end of their internships, the interns were invited to Polaris Austin to see firsthand how their code was being utilized in Polaris vehicles!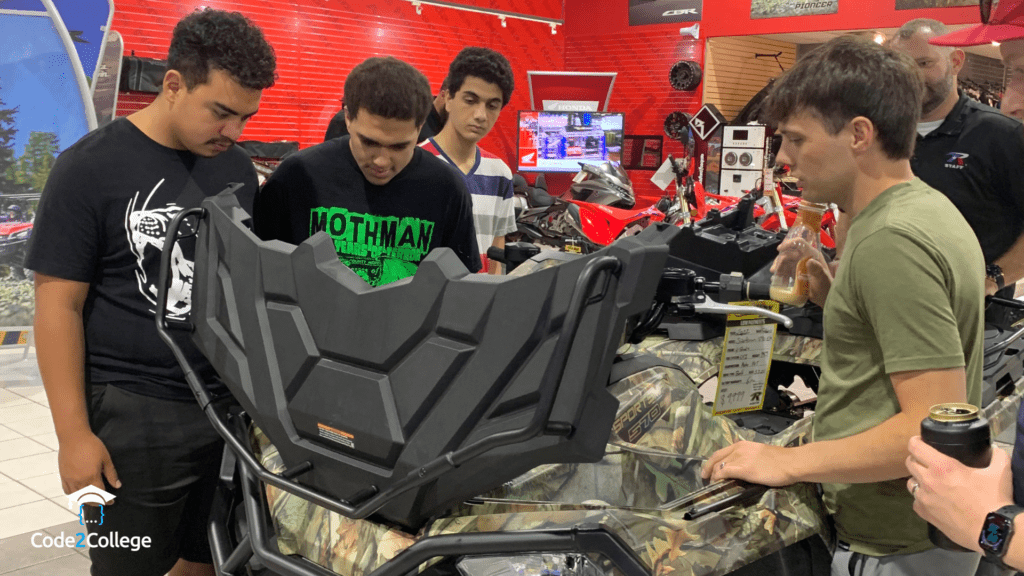 Polaris is truly living out our program model of education, exposure and experience. From their generous sponsorship of key course curricula to providing hands-on technical experience for historically underestimated high schoolers, our partnership with Polaris is actively leading to more diverse internship placement and expanding our students' ideas of what their dream STEM career can look like.
Thank you Polaris for your unwavering commitment to supporting historically underestimated students and helping us create a more diverse and inclusive STEM ecosystem!