Advancements in technology seemingly make leaps and bounds every other week – and game development is no different.
Games based in Virtual Reality (VR), Augmented Reality (AR), and Extended Reality (XR) have quickly evolved in recent years. Remember when PokemonGO dropped and it seemed like the entire world was playing at once? The AR craze was both impressive and addictive, blending common technologies like GPS and mapping services with location services, real-life landmarks, and Nintendo's cute little characters. Seeing a Rattata in your french fries truly felt like the pinnacle of gameplay.
Since then, tons of VR, AR and XR games and platforms have been released. With the global market expected to reach $393 billion by 2025, platforms like Oculus and Meta Quest and games like Beat Saber are exciting reminders of how far we've come in such a short time – and of the advancements just on the horizon.
Aside from their lucrative and rapidly growing industry, one of the most exciting aspects of these games is the fact that they can all be created in a popular game engine called Unity. This means people with no formal game development experience can use Unity to create industry-standard solutions and gameplay. "Unity is an extremely powerful toolset for creativity," says James Crabtree, Senior Software Engineer at Sailpoint and a volunteer instructor for our Unity course. "Any game you've ever wanted to play, story you've wanted to tell, or world you wanted to explore can be created with Unity. If you can master these tools, the possibilities of what you can create and share are infinite."
WHY UNITY?
Unity is so popular among both aspiring and established developers that over 60% of AR/VR content is made with Unity. Similarly, over 50% of all mobile games are made with Unity; there were over 24 billion installs of Unity games in 2022 alone!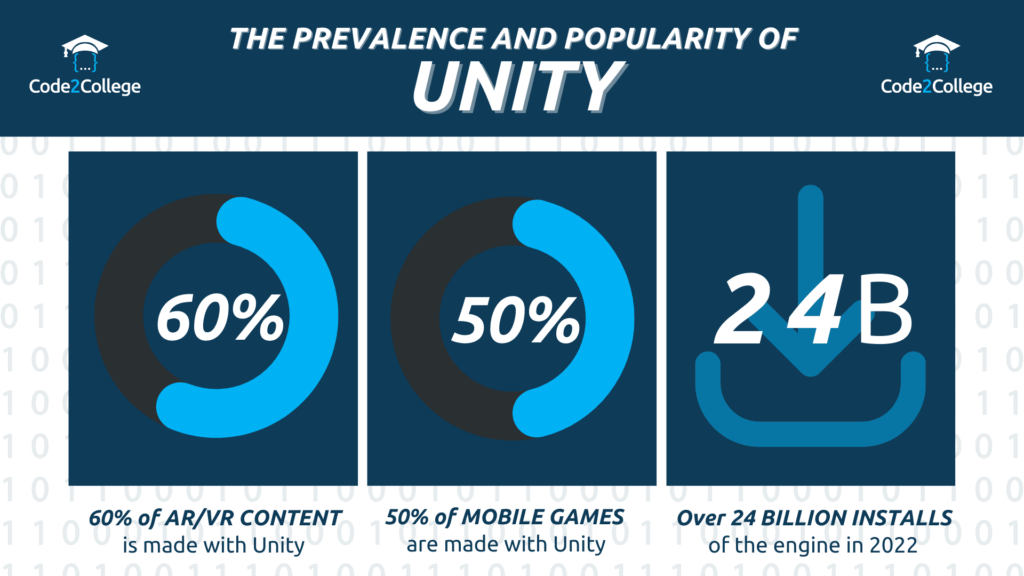 The game engine's prevalence in game development is attributed to its approachability for users of all backgrounds, says James. "Unity is known for being extremely flexible and easy to use. For that reason, Unity is used by all kinds of video game development studios to make games of all genres and sizes."
Knowing Unity has become a crucial asset for those interested in working in game development. In the gaming industry alone, Unity developers are in demand to do a diverse range of jobs, such as back-end programming, animation, software engineering, and machine learning. Or if you're more interested in working as a designer or artist, Unity knowledge will make you that much more valuable, says James. "Knowing Unity will give you the ability to collaborate better with your peers, quickly prototype new ideas, and view your creations from the perspective of a player."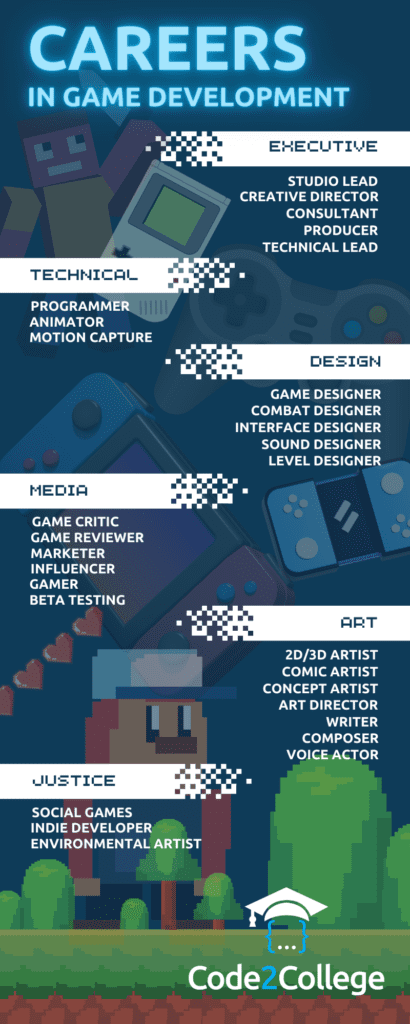 But let's say games aren't your thing. Did you know Unity knowledge is needed in other industries? Unity developers can find work in industries that utilize animation, simulation, and visualization, such as healthcare, architecture, education, and so much more!
LEARN UNITY AND GAME DEVELOPMENT WITH CODE2COLLEGE
Are you a high school student interested in Unity or in game development in general? You can learn directly from industry professionals for free at Code2College.
Our curriculum team designed Unity I, its follow-up course Unity II, and Game Development to equip students with the knowledge and technical skills needed to be competitive in these ever-growing fields. Andrew Flye, Associate Director of Curriculum at Code2College, says that by the end of the Unity I course, students will have created an actual, working 3D game in Unity! In this course, you'll learn how to create features like win/lose conditions, levels and power-ups, playable and non-playable characters and so much more.
Although the course is a little more advanced than our foundational Bootcamp course, Andrew says it's important to "take the time to look at something, feel confused and nervous about it, and stick with it," because "the more time you put into it, the more you will understand." Lucas Bonner, Software Engineer at VMware and a volunteer instructor for our Unity course, agrees that the challenge of starting something new pays dividends in the long run. "The first game engine, IDE, programming language, etc is always the hardest, but from that point on you've gained a level of comfortability & competency that can extend to whatever else you want to explore."
Code2College exists so that all high schoolers – no matter their background, experience or available resources – can explore different STEM fields and find the career that is most meaningful to them. If you're interested in building video games, even VR, AR, and XR applications, there's no better way to begin your journey than with Code2College.
Interested high schoolers can apply here!